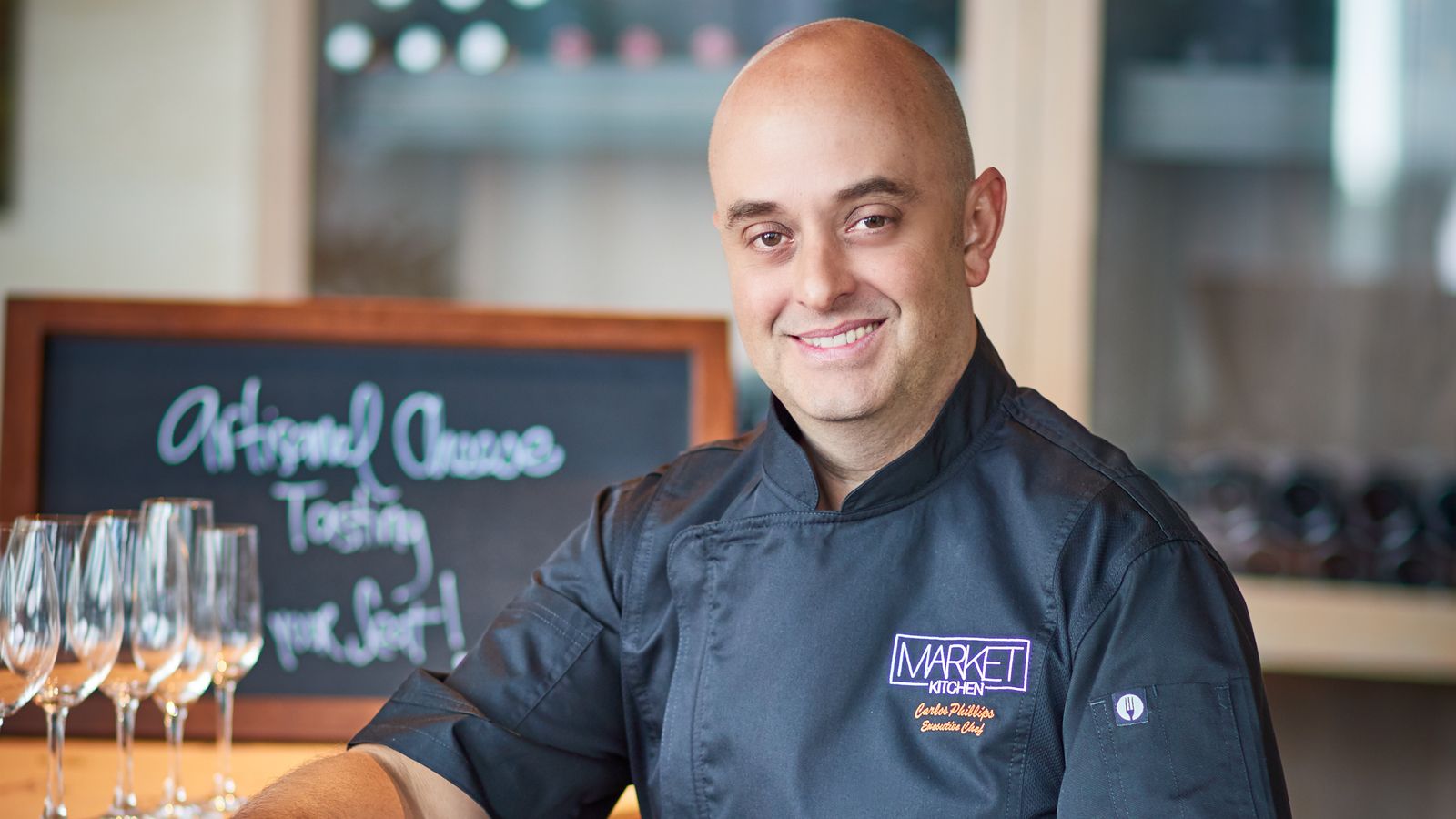 Carlos Phillps - Executive Chef at Market Kitchen Restaurant
From kitchen to classroom and back to kitchen, Chef Carlos Philips brings a life-long passion for learning which inspires the actual cuisine of Market Kitchen.
A Comfortable Modern American farm-to-table menu is featured at Market Kitchen, with Executive Chef Carlos Phillips at the helm. Growing up in the Mexico City area, Phillips earned his "Le Grand Diplome" at the internationally renowned Le Cordon Blue International in Paris, France. After finishing University, he decides to stay in France were he obtains his experience working in several well-known restaurants among others, the "L´Óusteau de Beaumaniere" rated with two Michelin Stars.
In 2008, Chef Carlos accepted a position at the Ritz Carlton in Chicago where he worked together with the well know Pastry Dominique Lemarrec.
Hungry for a new challenge, Carlos migrated back to Mexico City to become the Chef Instructor at El Instituto de Gastronomia y Reposteria Franco Mexicano which became so successful that he ended up opening two more schools in Mexico: Cancun and Puerto Vallarta.
After having learned from the best and sharing that knowledge with others, Carlos returns to the hotel Business as the Corporate Executive Chef of NH Hotels Mexico.
His next move was to Steak House Restaurant Mexico City, where he proved himself once again as Executive Chef allowing the restaurant to thrive under his leadership.
Chef Carlos believes in sourcing local ingredients. Locally grown produce play a major role in his menu development, for which he constantly seeks out the freshest and best ingredients.
A seasoned talent with extensive experience in the culinary arena, Chef Carlos is committed to delivering great food and service to Market Kitchen.
According to Carlos, the team at Market Kitchen is second to none; they make coming to work a joy every day. His advice to an aspiring chef is to always remember that although it's never listed in any recipe, the most important ingredient in every dish is patience.